Roberts Pavilion | Claremont McKenna College
2017 NIRSA OUTSTANDING SPORTS FACILITIES AWARD SUBMISSION
John Friedman Alice Kimm Architects
Jump to Section: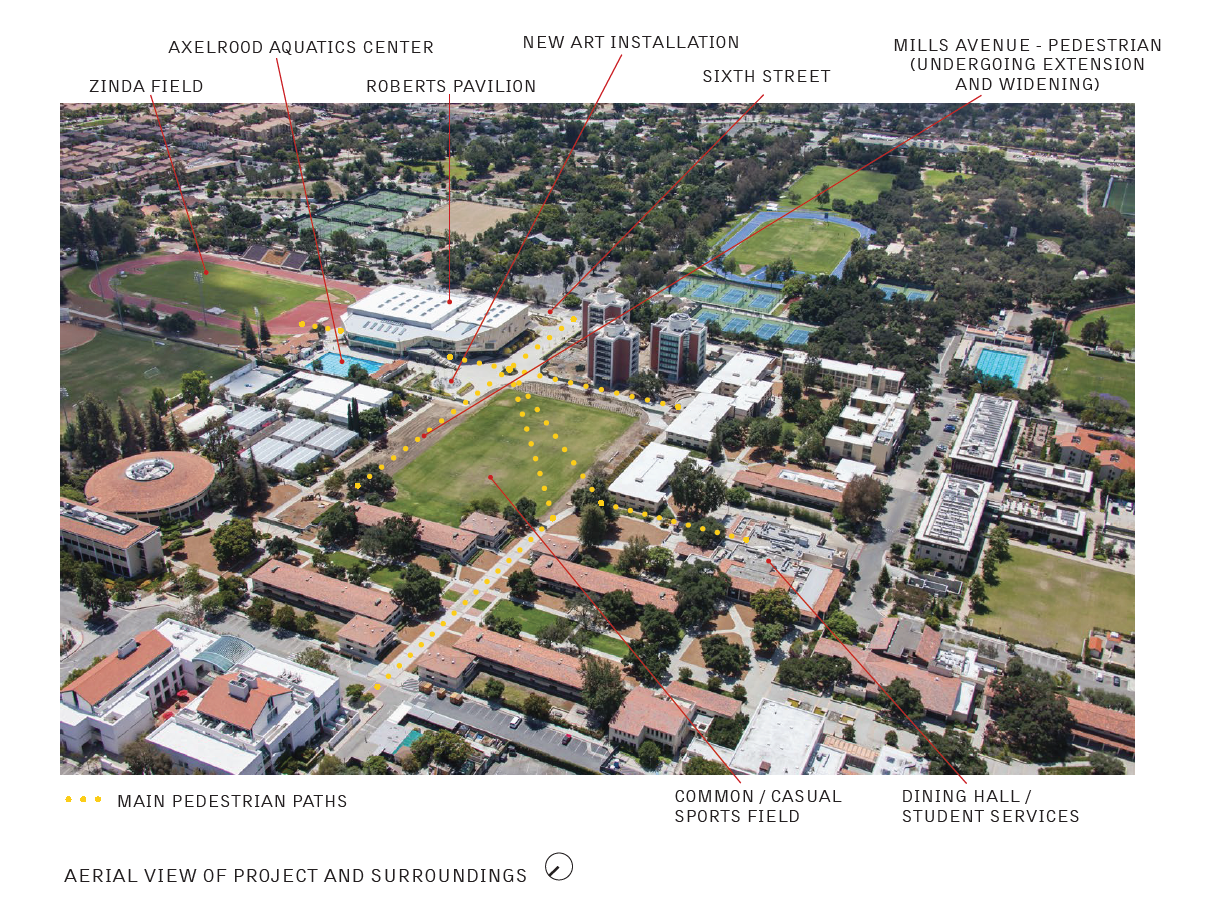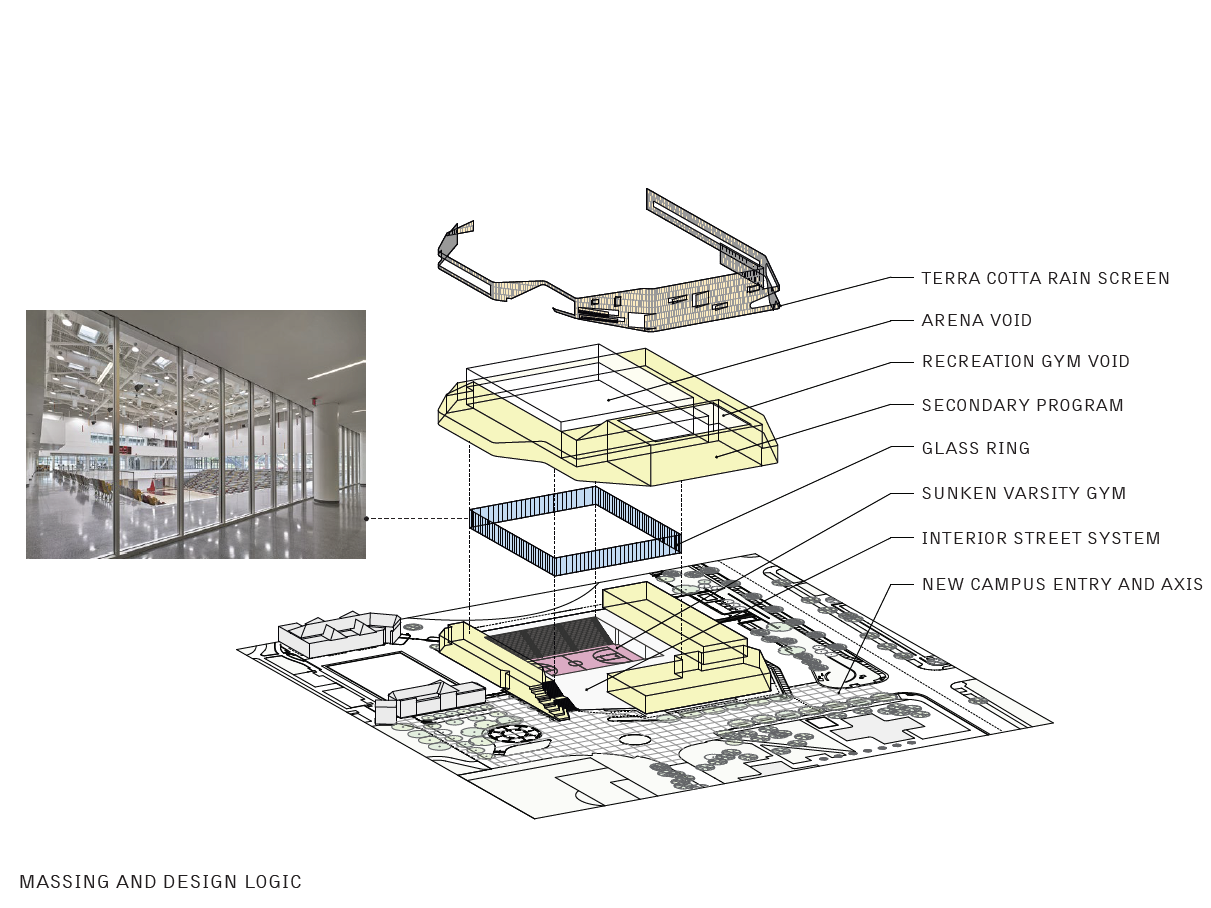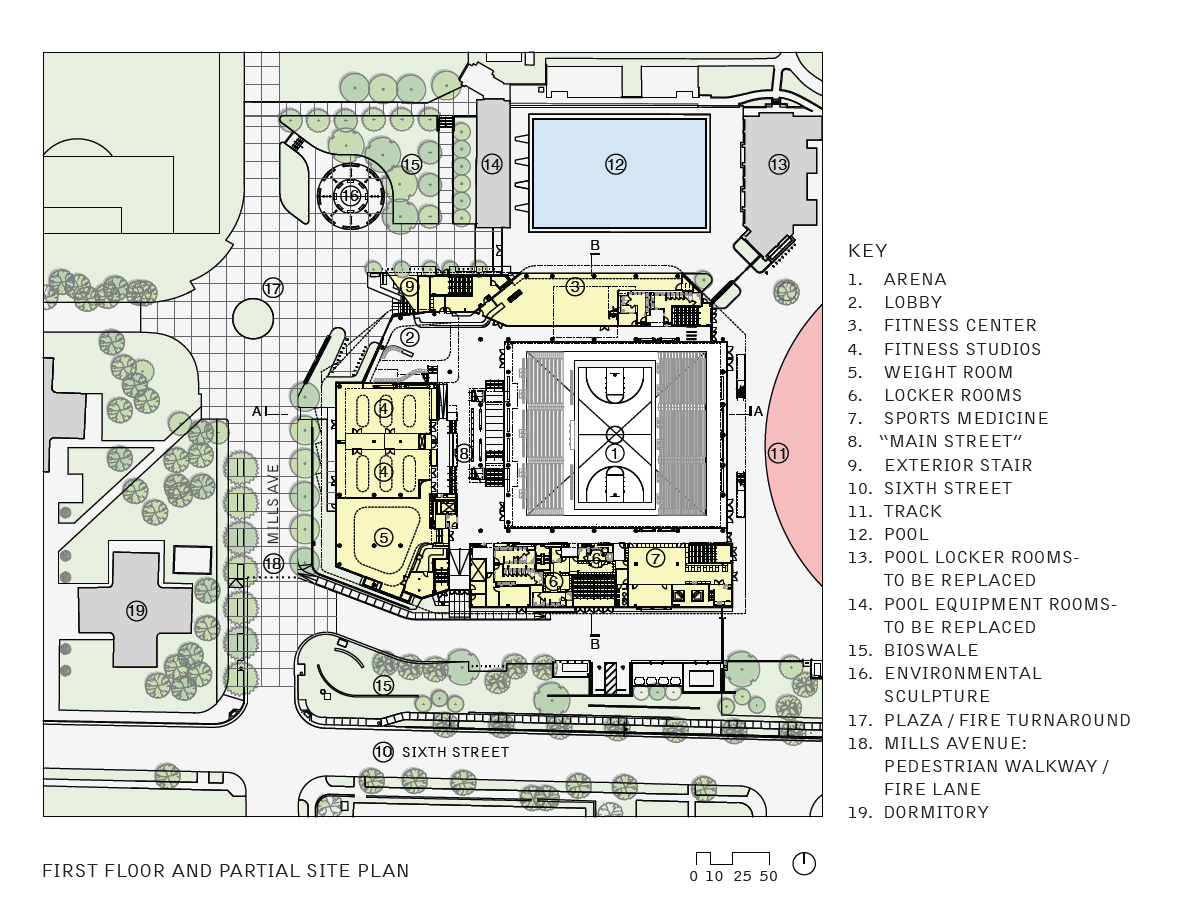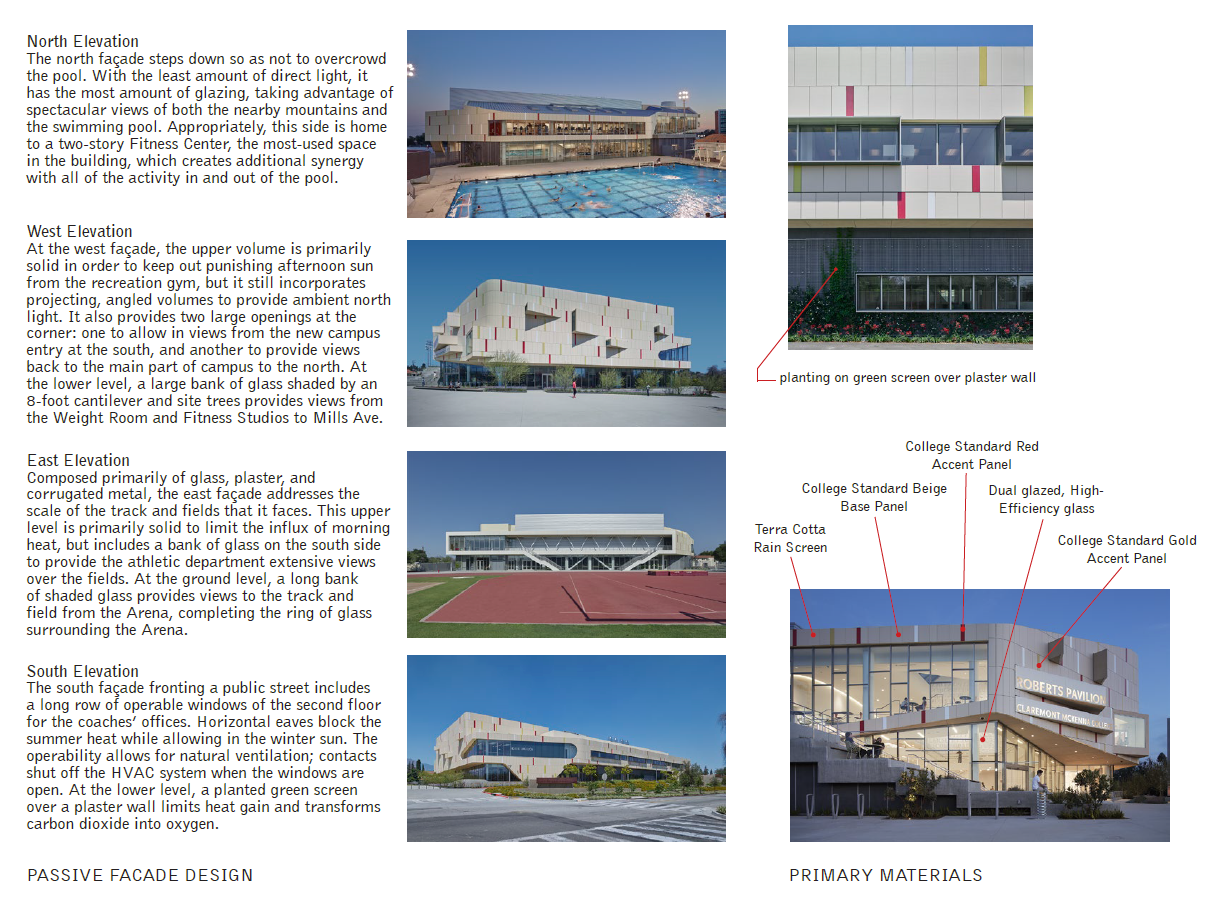 The new Roberts Pavilion (RP) at Claremont McKenna College (CMC) dramatically redefines what a state-of-the-art college athletics venue can be. While providing high-level sports and recreation facilities, it is also a unifying and iconic social hub.
Correlation to campus master plan and mission:
RP replaces an old and outdated gymnasium on CMC's campus with a new 3-story building that marks an important new southern entrance to the campus. The building sits at a nexus where major pathways from the main dorms and academic quad converge along with playing fields and aquatic center.
CMC's leadership desired that RP would not only fulfill its main intended function as a premier NCAA competition venue, but would also be an events center that accommodates myriad activities. The resultant multipurpose facility fully satisfies CMC's core mission – to nourish both the minds and bodies of its community in order that its members may lead thoughtful and productive lives and become responsible leaders.
Intended and actual impact to your recreation program / Facility functionality:
RP is the new home for CMS (Claremont McKenna, Harvey Mudd, and Scripps Colleges) Recreation, as well as CMS Athletics. All recreation staff offices are housed there, and all indoor intramural and club sports activities are occurring there. With RP, the CMS Recreation program is able to double its offerings to the multiple Claremont Colleges and service a variety of groups and users for fitness, intramural, and Phys Ed courses. The new collaboration between CMS Athletics and Recreation, enabled by RP, has bolstered the relationship between student athletes, the general student population, and CMS faculty and staff.
Roberts Pavilion averages 550+ users per day from the 3 Colleges, which have a combined student population of 3,000. RP is also a resource for student professional development; 60+ student staff members help with everything from facility supervision to event management, intramural, and club sports competitions. College faculty and staff enjoy the facility from 6am–6pm. Students can use the facility at all hours (M-F: 6am-11pm, Sat: 10am-8pm, Sun: 12pm-11pm), but is most utilized by students from 5-7pm M-F, when 150+ people enter per hour.
Unique aesthetic or architectural design features:
To meet the challenges of a compact site, the architects sank the central basketball arena below grade and placed other functions around the edges. The experience of the building is one of lightness, because it appears to hover above the ground plane on a ring of light produced by twelve-foot high sheets of glass on all sides. It is also one of light, because it is a study in how to optimize daylighting and connects to the world outside with views clear through and from almost any vantage point.
RP's dynamic geometry is at once an expression of athleticism and the energy of activity happening inside; this makes it a thrilling object of curiosity on an otherwise mostly uniform campus. While originally designed for athletics and recreation, spaces are appropriated for study, meetings, and social gatherings. Roberts Pavilion is the new center of campus life.
On the exterior, the building is skinned in terracotta. Red and yellow accents dance around the faces of the building to indicate school and team colors. Adjacent to the main entrance, a welcoming landscape stair brings people up to the second level and provides terraced seating. Inside the expansive, vaulted lobby, a double-height, figured wall rises above the dramatic sculptural interior stair. The wall features letters in relief that, when put together, spell out the name of the school as well as the school's three core values: Courage. Creativity. Empathy.
Relationship between facility design and staffing:
RP looks forward to future staffing and coaching needs, as well as for recruitment for CMS Athletics. Generous locker rooms; an administration wing for all coaches and staff; a conference room "skybox" overlooking the main gym (perfect for recruiting); and hydrotherapy and sports medicine facilities allow coaches and staff to operate at the highest possible level. In addition, the building's visual transparency ensures that the relationship between coaches, students, parents, and potential recruits is very open. RP, by acknowledging that nourishment of both body and mind is a significant part of college education, and also that the relationship between staff/coach and student/athlete can establish inspiring mentoring experiences, is a powerful recruitment / retention tool for all students.
Innovative construction materials or methods:
RP was delivered by the Architect and the General Contractor through the innovative use of Building Information Modeling (Revit and Navisworks software) ahead of schedule and on budget. Many innovative sustainability measures were installed (see below), and the exterior terra cotta cladding system constitutes another innovative construction material and methodology.
Sustainable/Green Features/LEED Rating:
Three crucial, interrelated sustainability challenges were addressed: 1) Limit Heat Gain; 2) Maximize Daylighting and Minimize Artificial Lighting; and 3) Maximize Efficiency and Minimize Use of HVAC Equipment. To address these, the design incorporates a building enclosure of which each façade is carefully designed relative to its local solar orientation and available views. The roof incorporates fritted skylights that spread daylight evenly throughout the building. Operable windows allow for natural ventilation; contacts shut off the HVAC system when the windows are open. Light sensors shut off lights in empty rooms. Occupancy controls turn off air supply and exhaust when spaces are vacant. Highly efficient equipment and intelligent design help minimize energy use. Eight rooftop air handling units allow effective control for a building with varying occupancy.
Two other major goals were achieved: First, to limit water, low-flow plumbing fixtures are used throughout and the number of showers is minimized. Outside, drought-tolerant plants and a highly efficient underground irrigation system reduce overall water use. Two bioswales recycle water from the roof and surrounding landscape. Second, major exterior cladding materials - terra cotta and plaster – are non-precious and natural. Inside are natural concrete and terrazzo floors. Renewable bamboo and cork are used, and all paint, adhesives, and carpet were selected for their low- or non-VOC content.
The project is slated to receive LEED-Gold certification.
Use of technology and how it benefits the customer, staff, and/or budget:
Display screens, audio system, online lighting controls, and online HVAC system have all played an important role in the efficient management of the facility. The foresight to have ample natural light allows programming of the lighting controls system to be as efficient as possible, with photosensors and automatic timers. Multiple, well placed displays throughout the facility pushes messages to users easily and effectively.